Ariana Grande Cloud is one of the best selling celebrity perfumes of all time. In 2021 a new Ariana Grande perfume has been released; Ariana Grande Cloud 2.0 Intense and this was swiftly followed by Cloud Pink. In this article I explain the difference between the three Ariana Grande Cloud perfumes and link to where they are available.
The best place to find the Ariana Grande perfumes in the US is Ulta, and in the UK The Fragrance Shop.
Ariana Grande Cloud
---
Ariana Grande Cloud is one of the most popular fragrances of the 2020s. This is a strong, sweet and cosy fragrance which feels like being wrapped in a whipped cream hug! Undertones of praline and coconut add to the depth and longevity of the fragrance which lasts at least four hours, often longer.
Ariana Grande Cloud 2.0 Intense
---
The new Ariana Grande Cloud 2.0 Intense is a stronger and warmer version of the original Ariana Grande Cloud perfume. They both have a hint of lavender and pear in the top note, but the main fragrance notes are the whipped cream and coconut in the heart. The new Cloud Intense perfume has some additional notes added; ambroxan and cashmere. These additional perfume notes help make the fragrance feel stronger and have a more amber undertone.
Ariana Grande Cloud 2.0 is available in Europe at The Fragrance Shop and in the US at Ulta.
Ariana Grande Cloud Pink
---
2023 sees the release of the hotly anticipated Ariana Grande Cloud Pink. This fragrance is very different to the previous Cloud perfumes. Although the praline note of its predecessors is still there, lighter fruity are really the star of the show in this scent. Wild berries, pineapple and pitahaya (dragon fruit) create the fruity opening notes, these are then followed by a feminine vanilla orchid. This is a sweet, fruity floral fragrance which is reminiscent of some of her earlier releases like Ari.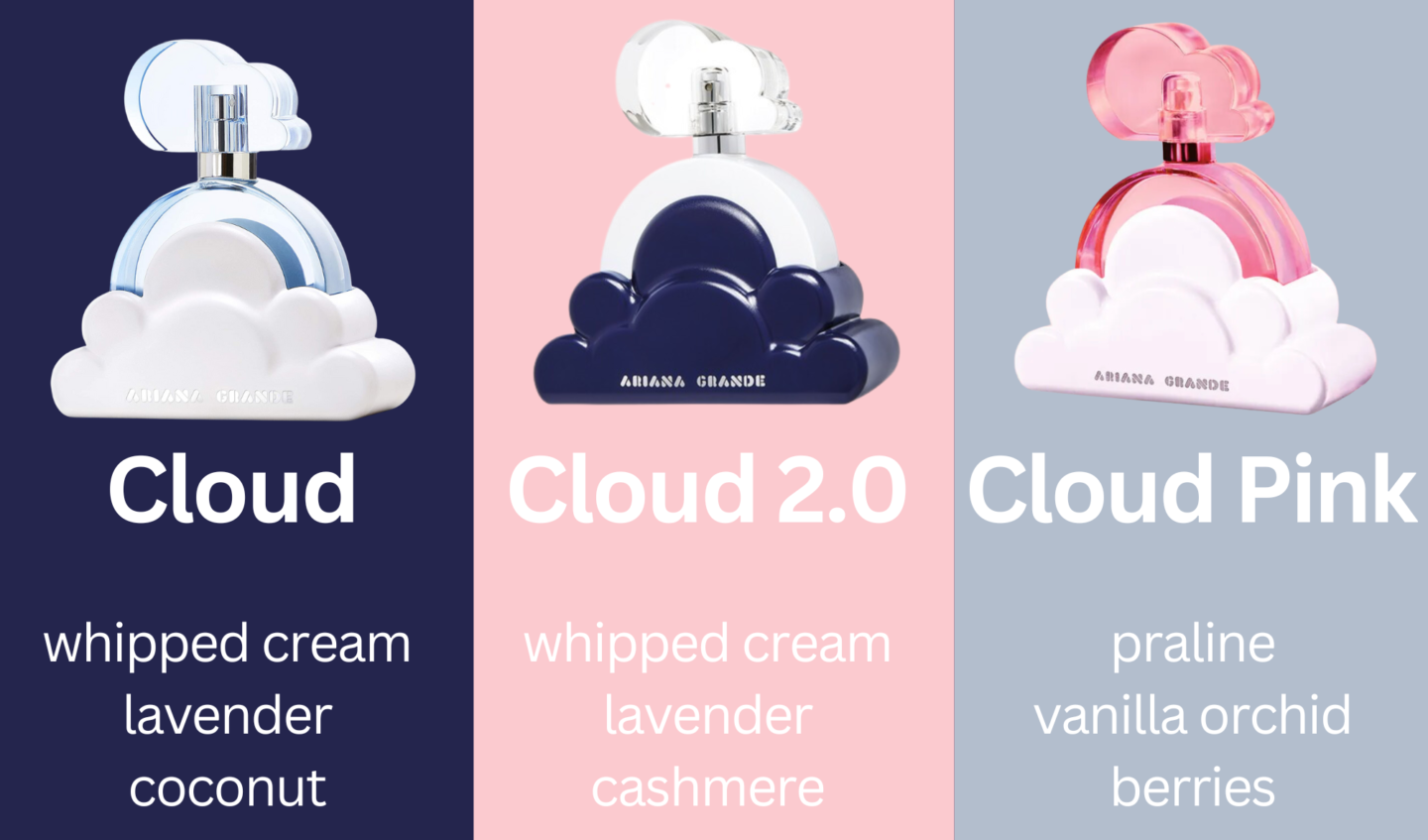 Ariana Grande Cloud & Baccarat Rouge 540
---
It's often said that Ariana Grande Cloud is a dupe for Baccarat Rouge 540 by Maison Francis Kurkdjian. Given that Baccarat Rouge 540 is over £200 and Ariana Cloud is around £30, it's definitely a more affordable alternative.
I personally don't think they are dupes for each other, but they're definitely very similar. Check out my video which goes into the detailed similarities and differences.
For an overview of the rest of the Ariana Grande perfume range check out my article on each of her fragrances and my Ariana Grande perfume gift set article including this new set exclusive to Ulta.