J'adore is one of Dior's most successful perfume ranges. After Miss Dior it's their second most sold fragrance line.
Charlize Theron has been the face of J'adore for a number of years, giving us years of beautiful golden marketing content. This article takes you through the different version of J'adore which are available and explains the difference between them.
The name 'J'Adore' is French word which can translate to English to mean anything from I love, I like, I adore, I really love, or I loved. J'Adore can have a different meaning to each wearer of the fragrance, and it's been used across the Dior Brand and popularised through their J'Adore Dior top, but essentially it's all about love!
So how much is J'Adore perfume? We'll like all Dior fragrance it is priced at the higher end for a designer perfume. A J'Adore perfume will cost anywhere between £50 ($67) and £150 ($200).
---
Table of Contents
J'Adore Eau de Parfum
---
Released in 1999 J'Adore has been a best selling perfume for over 20 years.
The original J'Adore Eau de Parfum is a floral fragrance which is dominated by jasmine, lily-of-the-valley and tuberose.
It also has a fresh melon note which is noticeable in the initial top note, alongside a pear and mandarin orange.
Personally, I think the original J'Adore is a classy daytime scent. It lasts a good few hours and gives the wearer a sophisticated floral aroma.
J'Adore L'Or
---
J'Adore L'Or is an oriental take on the original J'Adore fragrance. The fresh melon notes from the original are removed and replaced with a warm Tonka bean and stronger vanilla.
For me this is a good alternative to the original J'Adore for evening time and winter. You could wear the original during the day and then layer on J'Adore L'Or for the evening time.
The strength and longevity is better than the original, but you lose the signature melon scent which J'Adore is known for.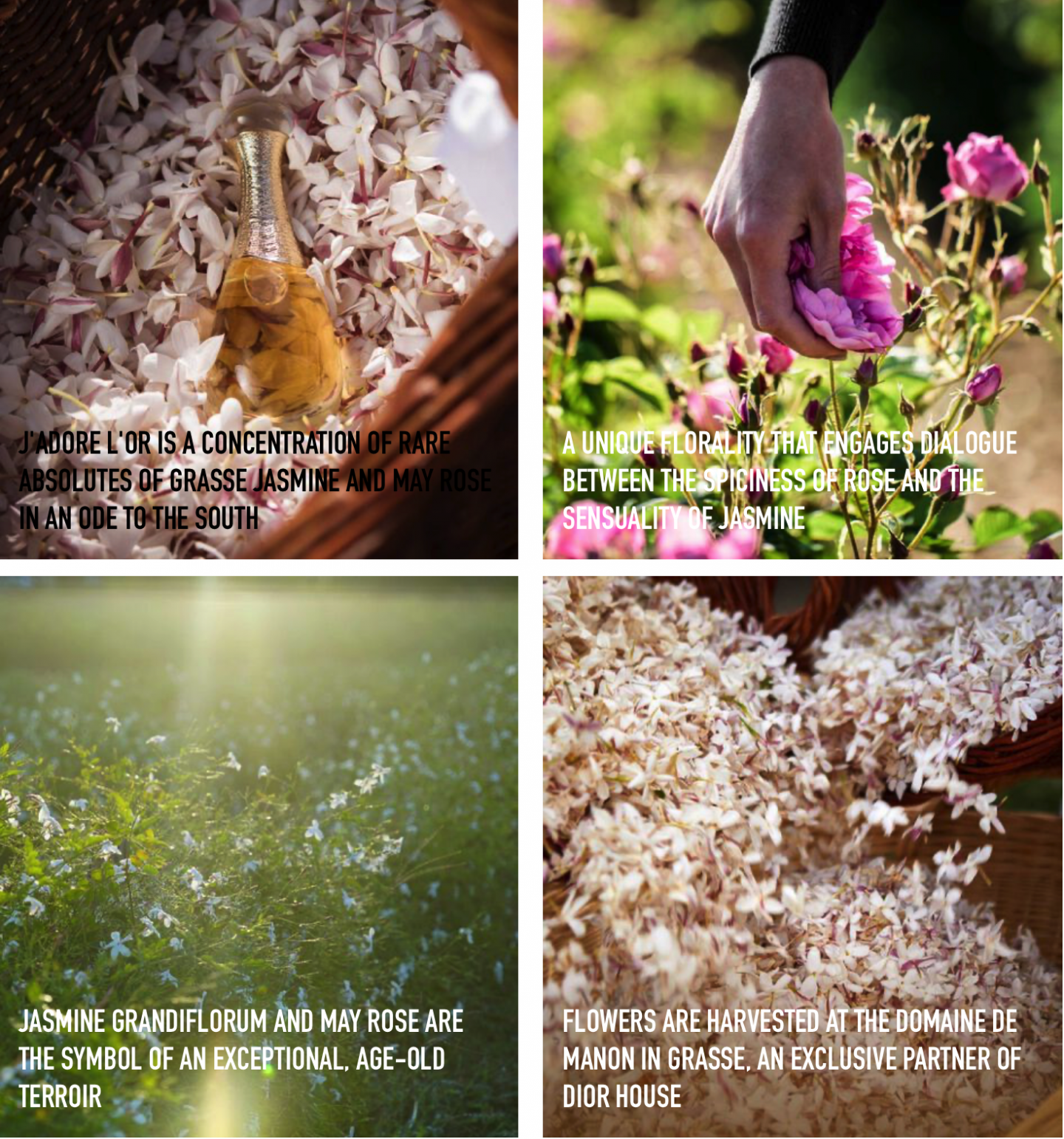 J'Adore Eau de Toilette
---
The Eau de Toilette version of J'Adore is a lighter interpretation of the original.
The melon top note from J'Adore Eau de Parfum is replaced with citrus and mandarin orange, with an African orange flower and the signature jasmine floral notes making up the majority of the scent.
Unfortunately, being an Eau de Toilette the fragrance is not very concentrated and so I find that although it's a pretty fragrance it doesn't last very long at all.
I'd recommend J'Adore Eau de Toilette for warm climates where you're looking for a pretty jasmine without the strength of an Eau de Parfum.
The liquid in the bottle is a pretty nude-pink colour which I think I prefer to the original yellow liquid.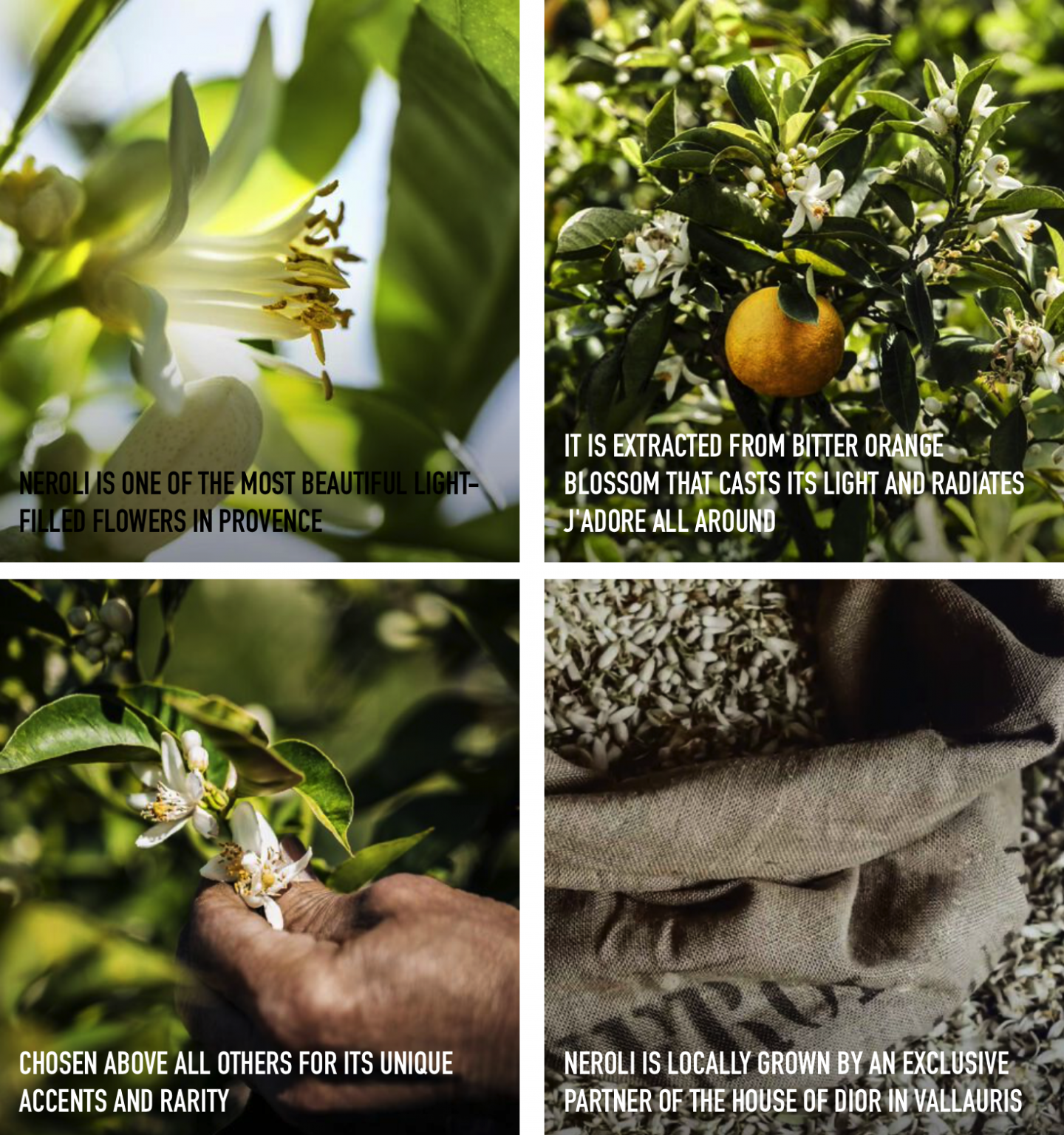 J'adore Extrait de Parfum
---
In 2014 J'adore Extrait de Parfum was released and has remained in the range ever since.
This is a very concentrated version of J'Adore which comes in a 15ml bottle.
The idea is that you only need a very small amount of the fragrance because it's so concentrated.
All you need is a couple of dabs of the scent and you're surrounded by a warm floral bouquet.
The main notes are yalang-ylang, jasmine and a warm rose; this is a fragrance for someone who wants a strong floral bouquet similar to the classic fragrances of the 90s.
J'adore Touche de Parfum
---
In 2015 J'adore Touche de Parfum was launched introducing a woody floral fragrance to the J'Adore perfume range.
J'adore Touche de Parfum has a similar strength to the J'Adore Extrait de Parfum, and is applied in a similar way through dabbing rather than with a spray.
There is a strong sandalwood note which along with the signature J'Adore jasmine make this a warm, classy and sexy interpretation of J'Adore.
This is another fragrance which is excellent for lasting and projection given how concentrated it is.
J'Adore Lumière Eau de Toilette
---
J'Adore Lumière Eau de Toilette is one of the Dior fragrances which really divides opinion.
This is a light magnolia and blood orange fragrance, with the signature J'Adore jasmine note still there but in the background.
What's a bit off about J'Adore Lumière is the dry-down. It's common for people to find on their skin that it can settle to become a slightly stale green or medicinal scent which isn't very appealing.
We already have a J'Adore Eau de Toilette so I'm not sure what gap this fragrance is filling. Personally, I'd recommend sticking with J'Adore Eau de Toilette over J'Adore Lumière Eau de Toilette if you're looking for a light Dior floral scent.
J'Adore In Joy
---
J'Adore Absolu
---
J'Adore Absolu is one for fans of honey and nectar perfumes.
The main notes initially is a tuberose (similar to Giorgio Armani My Way) and the J'Adore jasmine scent. But as the fragrance dries down a warm sweet honey nectar comes through.
It evokes the feeling of the honey bees collecting the floral nectar from the flowers in Provence.
This is an Absolu strength fragrance so it's intended to be stronger than an Eau de Parfum.
J'Adore Infinissime
---
J'Adore Infinissime is a warm sensual tuberose and jasmine underpinned with a dry wood note.
There is no hint of the sweetness we see in many of the other recent editions of J'Adore. In my view the fragrance has more in common with Givenchy L'interdit than with the original J'Adore Eau de Parfum.
It's classy and good for lasting, and I definitely recommend any white floral fans to give it a try.
J'adore Parfum d'Eau
---
2022 sees the release of the first alcohol free fragrance from Dior. J'adore Parfum d'Eau is described by Dior as 'flower water' and it absolutely does include lots of floral fragrance notes; Jasmine, Honeysuckle, Rose, Magnolia, Neroli and a fresh green undertone.
I think J'adore Parfum d'Eau is a pretty fragrance for the spring time; its a fresh floral scent just like the original J'adore fragrance.
J'Adore Roller Pearl
---
Dior has released a number of what they call 'Roller Pearl' fragrances. The Dior Roller Pearl is a handbag size bottle with a thick liquid fragrance inside which is applied with a glass roller ball. The scent from the Dior Roller Pearls tends to be quite strong and often better for lasting than the perfume sprays.
In the J'Adore perfume range there are three J'Adore Roller Pearls available; the original Eau de Parfum, J'Adore Eau de Toilette and the new J'adore Infinisimme.
Charlize Theron for Dior J'Adore
---
The model in the J'Adore commercial is Charlize Theron. The actress and model has been the muse for J'Adore since 2004 (and doesn't appear to have aged a day since!) right after she won the Oscar for her performance in Monster.