Jasmine is one of the most common floral perfume notes, especially in best selling fragrances of the 21st century. This article explains the origins of jasmine, the different types of jasmine used in fragrance and how the jasmine fragrance oil is extracted.
Jasmine (Jasminum officinalis in Latin) is actually classified as a herb within the Olive family. Although there are lots of different type of Jasmine, there are three which are specifically used in perfume.
Table of Contents
The Origins of Jasmine
---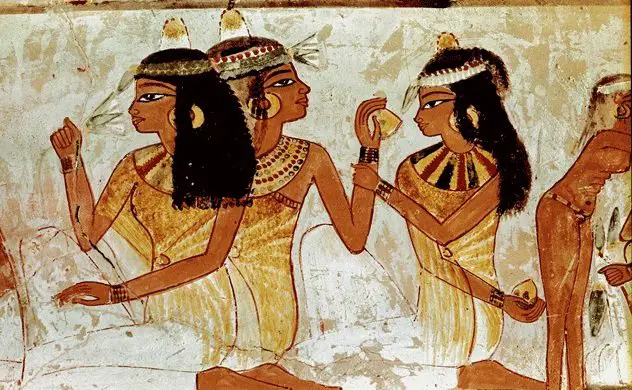 Jasmine is believed to have originated in ancient Persia (modern day Iran). There are images of jasmine being used in fragrance and for bathing in Ancient Egypt dating back to 1000 BC. The ancient Egyptians also used Jasmine to decorate their statues, and even their tombs.
Jasmine has been grown in India since about 300 BC. Jasmine garlands are used at festivals and wedding. Jasmine Is also widely consumed in everything from teas to candy.
As in ancient Egypt, when jasmine reached China in 200 BC it was something reserved for royalty and the aristocracy.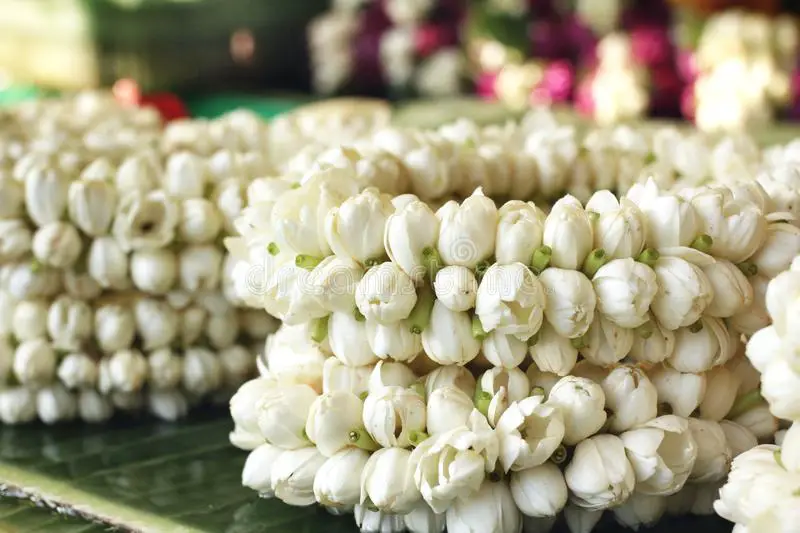 As traders brought new goods to Europe in the 16th century jasmine was one of the new products which was quickly embraced. Ever since then jasmine has been grown in the south of France; today about 27 tons of jasmine are harvested every year in Grasse, Provence.
Jasmine is the national flower of the Philippines, Indonesia and Tunisia.
Jasmine Sambac vs Jasmine Grandiflorum
---
Jasminum grandiflorum, also called Spanish jasmine and Arabian Jasmine, is the original Jasmine used since ancient Egypt. Today it is grown in mainly in India and around the Mediterranean.
Jasmine sambac, which is also known as Arabian jasmine, "the Queen of the night" and "Moonlight of the grove" grows in tropical, humid areas in Asia. Jasmine grandiflorum has a more delicate floral feel compared with Jasmine Sandbac which has a more tropical and deeper feel.
Jasmine grandiflorum blooms in the early dawn, whereas Jasmine Sambac blooms at night hence the name "the Queen of the night".
Harvesting Jasmine
---
Jasmine is harvested as a bud as soon as it turns white. Once the floral has fully opened it looses some of its scent and is much harder to get the jasmine oil from.
It takes about two hours to harvest a kilogram of jasmine buds. About 1 million flowers are required to produce 1 kg of jasmine absolute.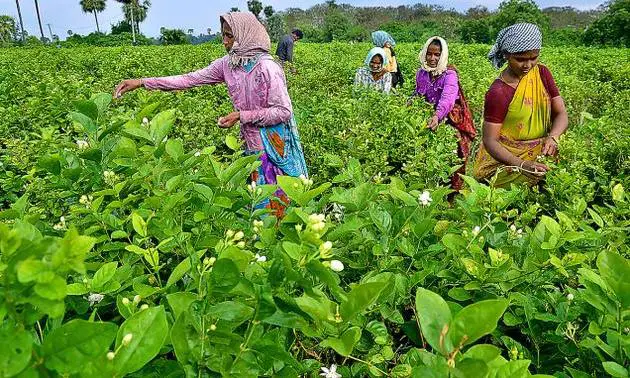 Jasmine Distillation
---
Unlike with the extraction of rose, steam distillation isn't used to extract jasmine oil from the petals. A chemical called hexane is used to extract the oil from the jasmine; this creates a wax known as 'concrete'. This processes (which also produces an orange dye as a by-product) is typically done straight after the flowers are harvested, so as to ensure as little fragrance as possible is lost.
The jasmine 'concrete' can be transported for use elsewhere as it doesn't loose the fragrance over time. To create the jasmine absolute which is used in fragrance, the 'concrete' is washed and mixed with ethanol.
Jasmine Perfumes
---
Thierry Mugler Alien
Yes, Alien is a super strong fragrance. They don't even bother with any light top notes – something very unusual in a designer fragrance. 
The wearer is immediately hit by a deep and heady jasmine note – like walking into a field of jasmine at midnight on a hot summer evening. 
After the jasmine a creamy almost sweet woody note comes through. This combined perfectly with the jasmine to give Alien a 'other-worldly' feel. 
There are lots of different versions of Alien; check out my article on the range.
Gucci Bloom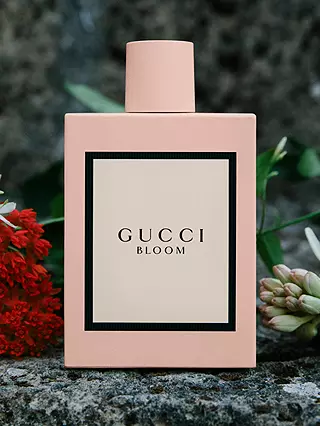 The release of Gucci Bloom in 2017 coincided with a change in the direction of Gucci's marketing look and feel, with a move to a classic 1960s vibe. Gucci Bloom is a classic white floral scent made up of tuberose and jasmine, with great lasting power and projection. 
Night Blooming Jasmine
---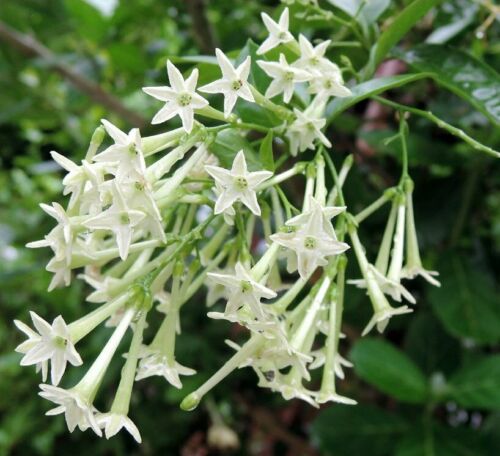 Night Blooming Jasmine (Cestrum nocturnum in Latin) has a tubular shaped flower and looks quite different to the original Jasmine and Jasmine Sandbac. Its flowers only bloom at nighttime and create an incredibly strong fragrance. The sweet scent can be smelt for up to 500 feet away.
First discovered in the Caribbean, it may have been brought to Europe by Christopher Colombus.
Night Blooming Jasmine Perfumes
---
Viktor & Rolf Flowerbomb Midnight
Viktor & Rolf Flowerbomb Midnight is a fruity berry blast. There is a strong fruity Blackcurrant note which is very noticeable in the first few minutes.
The Blackcurrant is combined with a Peony note (two of my favourite fragrance note combinations!) which creates a fresh, fruity and yet slightly sexy feel to the perfume which justifies the 'midnight' name.
The signature Flowerbomb scent comes through after the initial Blackcurrant note of Flowerbomb Midnight. This signature floral scent is complimented with a Night Blooming Jasmine which adds an element of mystery to the floral heart.
Check out my article on the entire on the Viktor & Rolf Flowerbomb perfume range.
Bvlgari Goldea The Roman Night
The night blooming jasmine in Bvlgari Goldea The Roman Night creates a sweet floral undertone which isn't 'too sweet'. A unusual mulberry fragrance note ads an autumnal fruitiness and a slightly musk makes the scent classy, creamy and velvety.