The Miss Dior fragrance range is one of my absolute favourite perfume collections. With beautiful bottles and beautiful branding, and of course the gorgeous Natalie Portman as the face of Miss Dior, it's easy to see why this perfume is so successful. To find out more about how Dior extract the rose scent used in the Miss Dior range check out my article on the entire process.
This article explains the difference between the various versions of Miss Dior that are currently available, I've also included discontinued versions of Miss Dior.
Table of Contents
Miss Dior Eau de Parfum 2021
---
In 2021 Miss Dior Eau de Parfum was re-released with a new scent and a new bottle. The signature rose scent of the Miss Dior perfume range remains but this new scent also includes lily-of-the-valley, iris and peony . This new Miss Dior Eau de Parfum is much lighter than it's 2017 predecessor and has lost the rose and patchouli combo which I personally loved. This is now definitely a fragrance for someone who wants something light, and in my view the best fragrance for lasting in the Miss Dior range now is Miss Dior Absolutely Blooming.
Because this new version of Miss Dior has poor lasting power and is very expensive, unfortunately I only recommend it for fans of light floral scents.
Miss Dior Eau De Toilette
---
Miss Dior Eau de Toilette has the signature rose and patchouli fragrance note which were in the discontinued Miss Dior Eau de Parfum 2017. However, the scent is fresh with blood orange which creates a zesty, spring like feel to the perfume. Miss Dior Eau De Toilette was also reformulated and the version we have now was quietly relaunched in 2019. Miss Dior Eau de Toilette has a lovely fresh scent which I genuinely like, however the lasting power is just an hour or so and for the price I'd expect more.
Miss Dior Absolutely Blooming
---
Miss Dior Blooming Bouquet
---
Miss Dior Rose n Roses
---
In 2020 we were surprised with a new fragrance in the Miss Dior Rose n Roses Eau De Toilette. As the name would suggest, this fragrance is all about the rose. It's an incredibly simple fragrance – essentially all I get is rose. It's pretty, fresh and delicate but doesn't last long. Being an Eau De Toilette I wouldn't expect the perfume to be super strong, but I find that Miss Dior Rose n Roses doesn't last beyond an hour or two unfortunately.
Miss Dior Rose Essence
---
2022 sees the release of Miss Dior Rose Essence Eau de Toilette. This is a stronger rose scent when compared to Miss Dior Rose n Roses which struggles to have lasting power.
Despite it's name I find that rose isn't the main fragrance note in Miss Dior Rose Essence. Instead the profile is dominated by guaiac wood and patchouli which make the fragrance oriental and quite unisex.
It is a little confusing to me because the branding and the bottle itself indicate a girly 'pink' fragrance, and then you are taken off-guard when the scent is a unisex, smoky wood. I think if you like Miss Dior Rose n Roses you won't like the smell of Miss Dior Essence. Instead I recommend it for fans of heavier oriental fragrances like Dior Poison.
A bizarre release which doesn't feel like it fits in the Miss Dior perfume line.
Miss Dior Roller Pearl
---
The Miss Dior Roller-Pearls are a cute edition to their range. They contain a perfume oil in convenient handbag-sized bottles which have a roller ball applicator. I actually find that the perfume in these lasts longer on me that when I spray the scent. They're also cute gifts and a convenient way to try out the different varieties of Miss Dior.
Miss Dior FAQs
---
What age is Miss Dior for?
Personally, I think Miss Dior can be worn by any age group. The core Miss Dior fragrances are all crowd-pleasing, feminine floral fragrances which feel very universal.
Which Miss Dior perfume is most popular?
At the moment the core Miss Dior Eau de Parfum is the best selling fragrance in the range.
What does the old Miss Dior smell like?
The original version of Miss Dior was released in 1947 and is still sold today. The old Miss Dior is an aromatic scent which strong aldehyde notes and a traditional chypre base.
Is Miss Dior for Summer or Winter?
I recommend Miss Dior for the Spring and Summer because the fragrances are quite light and delicate. In the winter other Dior perfumes like J'adore or Poison might be more appropriate.

Miss Dior Eau de Parfum 2017
---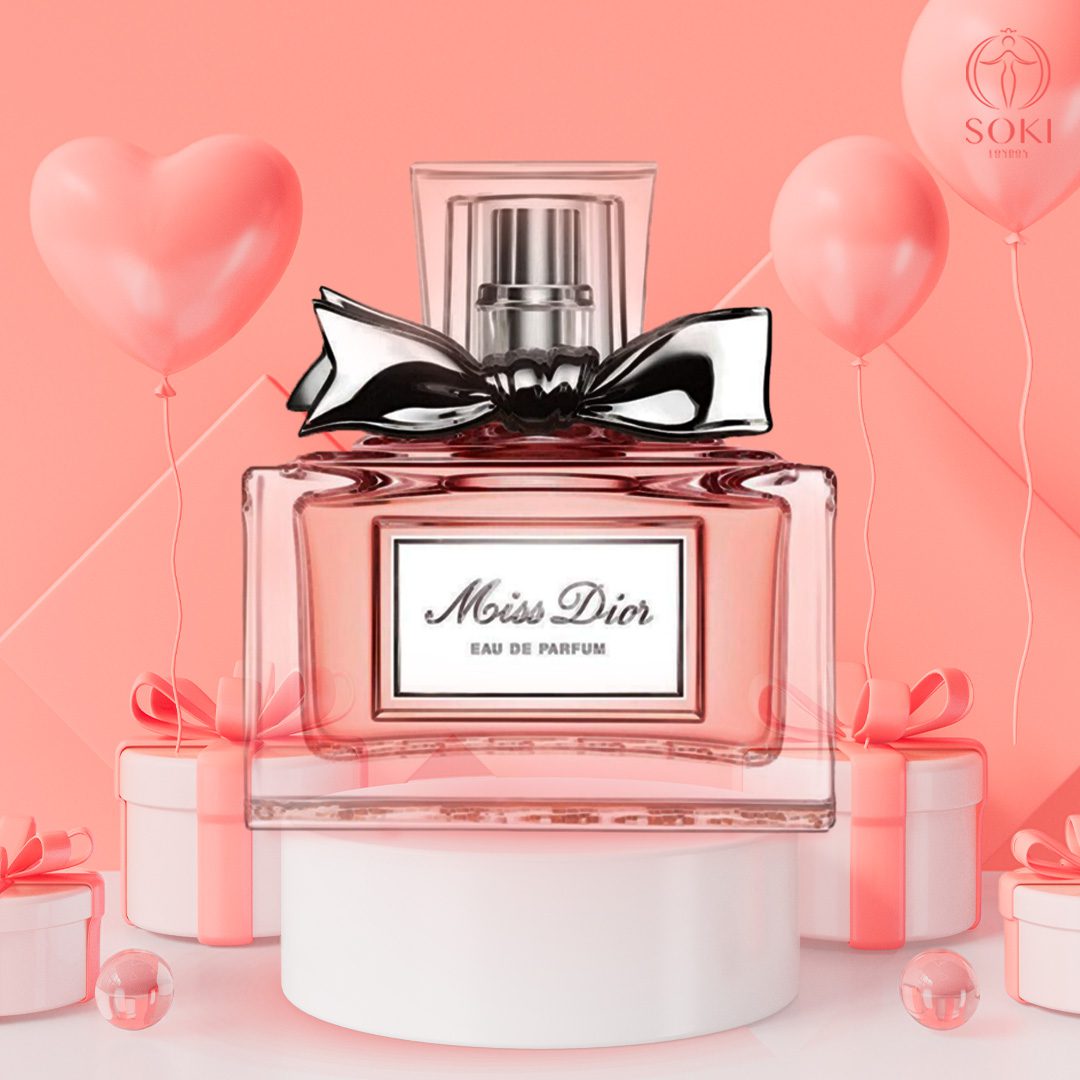 The previous edition of Miss Dior Eau De Parfum was released in 2017 as a slightly different formulation to its previous incarnation. As the branding suggests, rose is the star of the show in this fragrance. This combines with a warm jasmine and patchouli to create a really pretty and really classy fragrance. On top of these heart and base notes, there is a blood orange and mandarin orange – but these are both very much top notes and fade quite quickly.
Miss Dior Cherie
---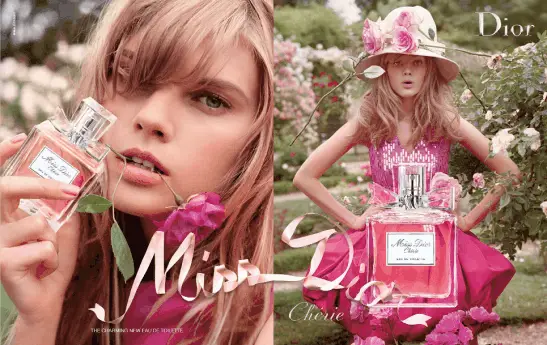 Before we get into the current Miss Dior range, we need to mention Miss Dior Cherie.
Released in 2005, Miss Dior Cherie Eau de Parfum was my favourite perfume of all time. So much so that it has inspired my first fragrance Empress, which has similar fragrance notes.
This now discontinued fragrance was an absolute gem! I'm so sad that it's discontinued and I definitely prefer it to the new Miss Dior fragrances. It had an unusual popcorn note in there with sweet cherries, strawberries and even pineapple.
The new Miss Dior range have the same rose and patchouli notes which were in Miss Dior Cherie, but those fun popcorn and cherry notes are gone.
Miss Dior Cherie was also released as in an Eau de Toilette version; first in 2007 and reformulated later in 2010.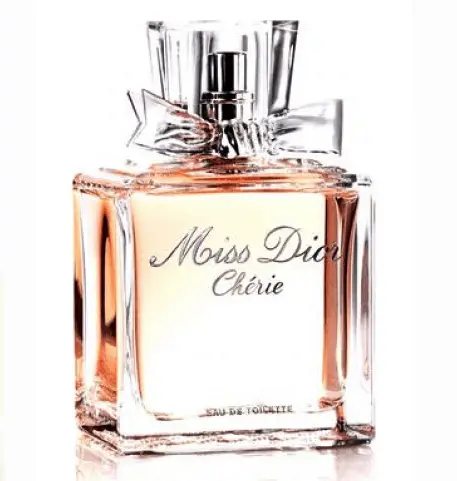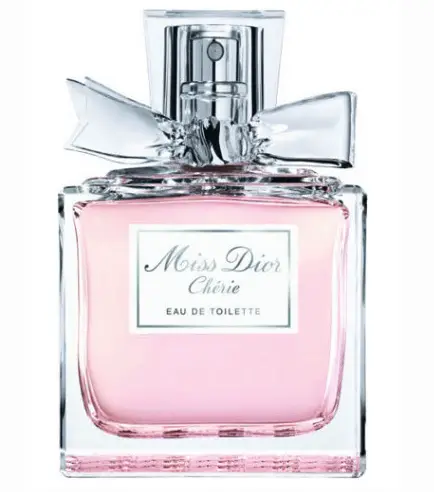 Miss Dior Cherie L'eau
---
Miss Dior Cherie L'eau, launched in 2009, is the only Miss Dior perfume to have a green liquid in the bottle. This fragrance was a refreshing bitter orange supported by a soft gardenia and a slight musk. Much simpler than the Miss Dior perfumes released in later years, this perfume was simple, light and pretty.