Dior Poison has been a best selling perfume range since the original fragrance was released in the 1980s. There are currently four variations of Poison, though there have been other versions which have been discontinued. The Poison perfume bottle is iconic and really reminds me of the poison apple and poison vile from Snow White. This article explains what Poison smells like, and the difference between the different flankers and versions.
Dior Poison Eau de Parfum
---
When Dior Poison Eau de Parfum was released in 1985 it was a huge success. This strong spicy oriental scent is instantly recognisable and has a lasting power which means it can easily become someone's signature scent.There is a plum and berry top note, but this fades quickly to reveal a strong incense, cinnamon and amber heart. These strong oriental fragrance notes are accompanied by white floral notes of tuberose, jasmine and African orange flower. After a number of hours a woody and amber base is left on the skin.
Dior Poison Eau de Parfum is excellent value for money because it lasts all day and has a strong projection.
Dior Hypnotic Poison
---
Dior Hypnotic Poison is my top recommendation for a strong sweet fragrance. This fragrance is definitely accurately names, as the scent is so heady some people find it quite sickly. It's a super strong almond and vanilla with a hint of coconut. There are some caraway seeds in the heart note, along with jasmine. Unbelievably, the original Dior Hypnotic Poison is an Eau de Toilette. It absolutely performs like an intense Eau de Parfum.
I'd recommend this fragrance for date nights and when you're looking for a sexy perfume. I find it quite similar to Dolce & Gabanna The One; but much stronger!
Dior Hypnotic Poison Eau de Parfum
---
In 2014 Dior Hypnotic Poison Eau de Parfum was released.
This fragrance has some different scent notes to the original Dior Hypnotic Poison Eau de Toilette.
Dior Hypnotic Poison Eau de Parfum is primarily a liquorice fragrance. The incense and spiciness of the original Poison doesn't feature, although the strong almond note of Hypnotic Poison remains.
The sweet vanilla and almond scent is very much still there, but it has been complimented with a warm tonka bean.
I think this new Dior Hypnotic Poison Eau de Parfum is a more modern scent than the original, as spicy and incense scents aren't popular at the moment.
Liquorice is a love-hate fragrance note which tends to divide people. If you do like liquorice than I'd recommend also checking out YSL Black Opium Intense.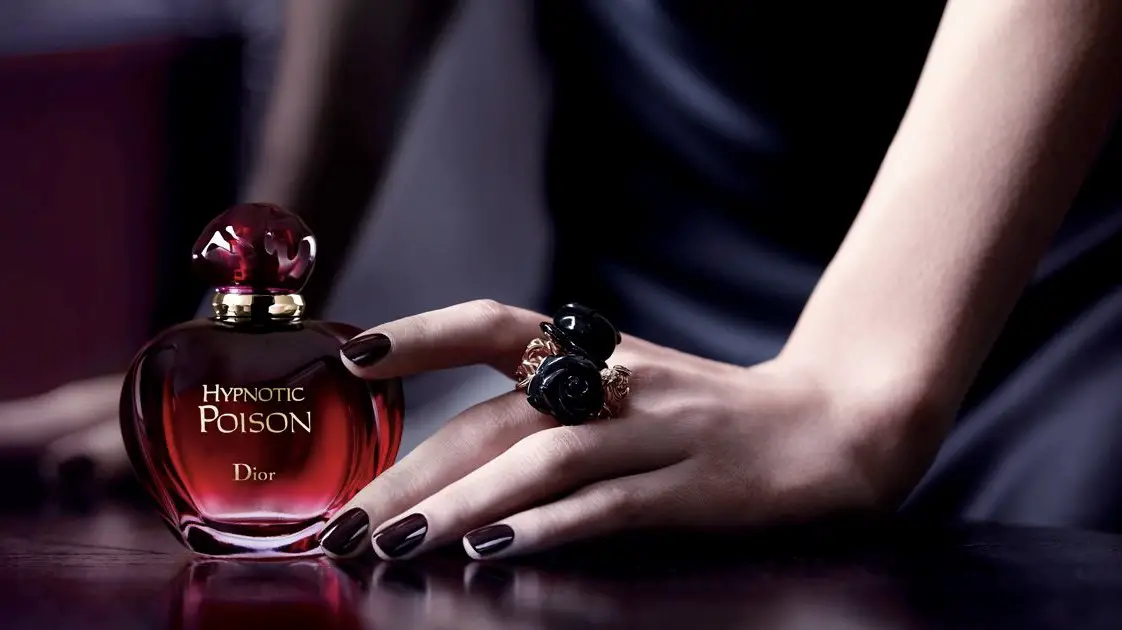 There have been a number of flankers for Dior Hypnotic Poison, all of which are now discontinued.
Dior Hypnotic Poison Elixir was a stronger and softer take on the original, with liquorish and star anise.
Dior Hypnotic Poison Eau Secrete kept the signature vanilla from original Hypnotic Poison, but aside from this it was completely different. It's primarily an orange and jasmine scent which makes it the freshest version of Hypnotic Poison to date.
Dior Hypnotic Poison Sensuelle was a soft take on Hypnotic Poison; it focuses on the floral notes from the original, with the oriental, spicy and liquorish notes removed. It still had the sweet vanilla but it was effectively a very different scent to the original Poison.
Dior Pure Poison
---
Dior Pure Poison is a classic jasmine scent which reminds me of Theiry Mugler Alien.
The strong feminine jasmine is accompanied by orange blossom and gardenia. After about 30 minutes the sandalwood and amber base starts to come through which gives the fragrance an oriental feel.
It isn't clear why Pure Poison has continued to be sold while other versions of Poison have been discontinued.
Dior Pure Poison is definitely a classy scent and it also has great longevity; I recommend Pure Poison to fans of jasmine who are looking for something they can rely on to last a long time.
Just like Poison and Hypnotic Poison, I think this fragrance is worth the Dior price tag.
A flanker, Dior Pure Poison Elixir, was released in 2006 two year's after the original Pure Poison.
Although now discontinued, Dior Pure Poison Elixir was very popular.
It was stronger and deeper than the original and even better for lasting.
Dior Midnight Poison
---
Dior Midnight Poison was a classic long-lasting patchouli and rose fragrance. It was launched with much fanfare with Eva Green as the face of the fragrance.
I don't know why this was discontinued by Dior, perhaps because it had a similar formulation to the then Miss Dior. Nevertheless, it was one of the most requested perfumes I was asked for when I worked in a perfume shop.
After a fresh citrus opening, Midnight Poison was a pretty rose and a long-lasting patchouli and amber which like the original Poison could become your signature scent.
I personally really loved the blue bottle!
Two flankers were released for Midnight Poison; Dior Midnight Poison Elixir which had a caramel note added, and Dior Midnight Poison Extract de Parfum.
Dior Tendre Poison
---
Dior Tendre Poison is another discontinued perfume, and another fragrance I was often asked for when working in a perfume shop. Dior Tendre Poison was a sweet, herbal tuberose. The perfume notes honey, tuberose and orange blossom are becoming a common combination recently, so Dior Tendre Poison was really ahead of its time. The sweetness comes from the honey and the orange blossom, while the tuberose is supported by a Asafoetida perfume note. Asafoetida is sometimes called 'devil's drug' is a variety of fennel which has a potent smell, sometimes likened to rotting garlic.
Unfortunately Dior Tendre Poison is very hard to find online now, maybe one day Dior will bring it back!?
Dior Poison Girl
---
Dior Poison Girl was released in 2016 in an attempt to appeal to a new younger audience with the Dior Poison fragrance line.
While Dior Poison Girl keeps the almond and vanilla perfume notes from the original Hypnotic Poison, this is pretty much all it has in common.
There is a beautiful rose and orange blossom in the heart which are modern and work well with the warm almond base.
The initial opening is dominated by a bitter orange and lemon but these fade relatively quickly to reveal the warm floral heart of the fragrance.
Dior Poison Girl doesn't last as long as it's predecessors but being an Eau de Parfum you do get a good half day out of the scent.
If you're a fan of orange fragrances, check out my article on the best orange perfumes.
Dior Poison Girl Eau de Toilette
---
Dior Poison Girl Eau de Toilette is a beautiful orange fragrance. Frosted orange, bitter orange and orange blossom dominate the scent making it super fresh and great for summer.
A caramel note has been added to the vanilla base note which mixes with the orange to create a sugary orange feel which is comforting and unusual.
I really like the scent of Dior Poison Girl Eau de Toilette but I do wish it was an Eau de Parfum because I find it only lasts a few hours.
This is definitely a daytime scent which would work well in humid climates where a refreshing orange would be perfect.
Dior Poison Girl Unexpected
---
Dior Poison Girl Unexpected was indeed an unexpected addition to the Poison range.
This perfume has similarities to Dior Poison Girl Eau de Toilette but rather than the sweet orange notes, there is a blood orange and a sharp ginger.
I find the ginger doesn't mix as well with the vanilla base as orange notes do, so personally I prefer Dior Poison Girl Eau de Toilette.
There were two Dior Roller Pearl's available; Poison Girl Eau de Toilette and Dior Poison Girl Unexpected however both have been discontinued but they can be found eBay.