Looking for your new favorite Ariana Grande perfume? Explore a variety of scents and notes in this guide to compare, rate, and rank all of the perfumes created by the pop star. Ariana Grande hasn't been releasing perfumes for long, but her fragrances have gone on to be some of the best selling celebrity perfumes in the world. I know people who aren't fans of her music, but who still wear and love Ariana Grande fragrances; always a sign of a successful celebrity fragrance. This article outlines every Ariana Grande perfume and explains what each smells like; from sweet florals to sultry musks, discover your ultimate Ariana Grande scent.
Table of Contents
1. Ariana Grande Cloud
---
In 2018, things started to get interesting with the release of Ariana Grande Cloud. This perfume has proved very popular and even received praise from perfume lovers who usually don't go for celebrity fragrances.
Essentially, it is a warm coconut fragrance which is amazing for lasting. Think Bronze Goddess but with lasting power, or Dolce Garden at half the price.
Ariana Grande comes in a 30ml, 50ml, and 100ml size, as well as in a body mist and a 10ml travel spray.
Personally, I think the bottle is super cool. This was the first of her fragrances to come in a round plastic bottle with a plastic mould around the bottle and a unique lid. This new style has lasted a few years, and although simple it's really effective. The 'cloud' part of the bottle also has that amazing new plastic smell which is a guilty pleasure for me! This perfume started a new phase of Ariana Grande perfumes which all come in this round bottle but with different plastic attachments on the bottom and the different lids.
Ariana Grande Cloud Intense
---
2. Ariana Grande God Is A Woman
---
Ariana's latest fragrance God Is a Woman, is quite a departure from the sweet fragrances she has released to date.
As well as being vegan and cruelty free, this fragrance is subtle and fresh, making it feel more mature and demure than her previous perfumes which were primarily sexy and sweet.
Pear is the main note here, with a slight musky and vanilla undertone.
3. Ariana Grande Thank U, Next
---
In 2019, Cloud was followed by Ariana Grande Thank U, Next. Named after her hit song, this heart shaped perfume has been another successful fragrance. The perfume uses coconut as with Cloud, but this time we have a sweet raspberry macaroon note added – in my opinion this is a more modern and interesting version of her original Ari.
Ariana Grande Thank U, Next 2.0
---
In 2021 Ariana Grande released Thank U, Next 2.0, a purple version of her original Thank U, Next perfume. This fragrance is a fruity perfume rather than a candy-sweet fragrance like the original. Thank U, Next 2.0 smells like wild strawberry, and red apple. I recommend Thank U, Next 2.0 for during the day and Thank U, Next for the evening.
4. Ariana Grande Moonlight
---
2017 saw the release of Ariana Grande Moonlight. Again using the same bottle design, this iridescent packaging is probably my favourite from these early releases.
Within similar vibes to Britney Spears Midnight Fantasy, this is a sweet plum fragrance. Again there is marshmallow and vanilla, but the plum and a blackcurrant note make this a little bit darker and more serious than her previous releases. There is also a hint of a peony in the heart note – one of my favourite perfume notes.
5. Ariana Grande Sweet Like Candy
---
Ariana Grande's original Ari perfume was quickly followed the year after by 'Sweet Like Candy'. This fragrance is even sweeter than the original perfume; with whipped cream added to the marshmallow and vanilla vibe. There are some white floral notes and a blackberry and pear, but overall it's the sweet marshmallow and vanilla which dominate. Definitely one for big fans of very sweet perfumes and not for the faint hearted!
Ariana Grande Sweet Like Candy is available in a 10ml Rollerball, and Body Mist.
Ariana Grande Sweet Like Candy Limited Edition
---
The following year in 2017 a Limited Edition of Sweet Like Candy was released. In the same bottle but in red, this fragrance kept the marshmallow, whipped cream, and blackberry of the original but had a new frangipani note and red berries added. This wasn't hugely different to 2016's Sweet Like Candy and was only sold in limited quantities, and is now virtually impossible to find online – a rare collectors item for Ariana fans I think!
6. Ariana Grande Mod Blush & Mod Vanilla
---
Ariana Grande Mod Vanilla has echos of Ariana's Cloud fragrance. Warm vanilla tones create the same kind of sensual, warmth and sweetness which we have become used to with Cloud, Cloud Intense and God Is A Woman.
Ariana Grande Mod Blush is a sweet fruity fragrance which reminds me of some of the first Ariana Grande perfumes. Sweet Raspberry and fruity Passion Fruit create a similar vibe to Victoria's Secret Bombshell; I think Mod Blush is more suitable for a younger consumer.
7. Ariana Grande Ari
---
Ariana Grande's first perfume release was in 2015; Ari is in my view a basic sweet fragrance which I suspect Ariana had little to do with creating. To name your first perfume after yourself is typical of many first celebrity perfume releases rushed out by the branding team to monopolise on their artists success. In terms of the fragrance itself, a raspberry marshmallow is what comes to mind; if you like very sweet perfumes then this is for you.
8. Ariana Grande R.E.M.
---
https://bit.ly/3HGIVaLThe next Ariana Grande perfume release, launched during the 2020 pandemic was R.E.M. Although the fragrance has really cool super hero branding, I think the perfume itself hasn't been as much of a hit as Thank U, Next and Cloud. Instead of a coconut base this fragrance has a soft lavender – a note often associated with older fragrances. It also doesn't have the lasting power of the previous two. The bottle follows the same circular design in a plastic case but unlike it's predecessors the fit isn't very good and the perfume bottle rattles inside the plastic casing, making it feel a bit tacky.
9. Ariana Grande Frankie
---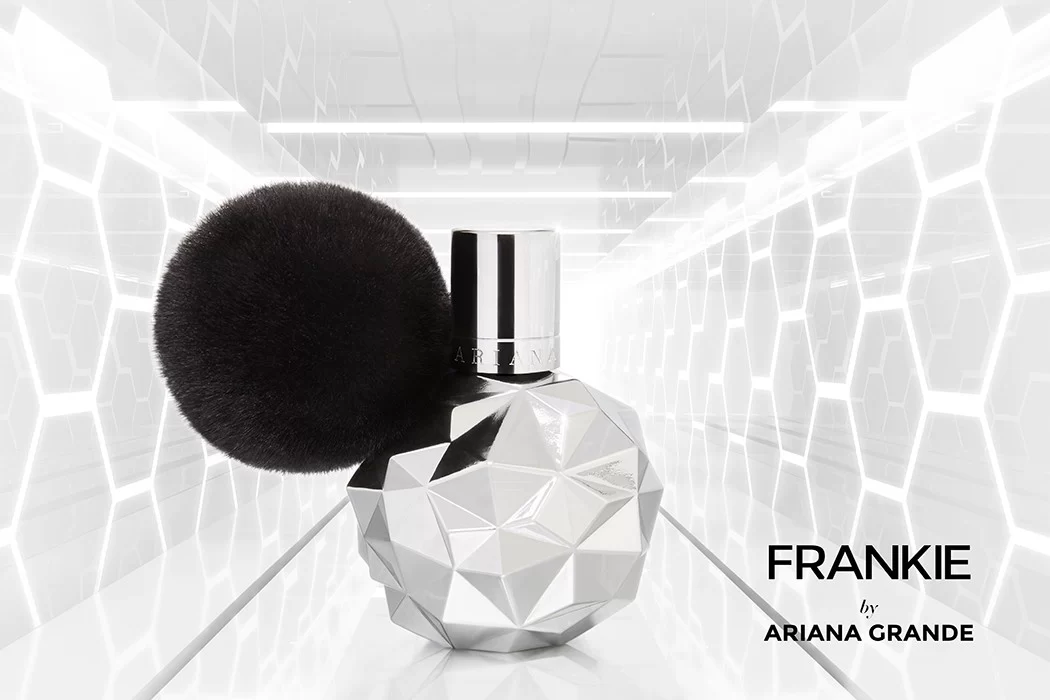 In 2016 a limited edition fragrance was released named after Ariana'a brother Frankie. This fragrance was in a silver version of the Sweet Like Candy bottle and only had limited distribution. This perfume had more of a unisex vibe, majoring on a sweet apricot. The pink pepper, cedar wood and sandalwood in the heart and base notes, combined with being named after her brother, make me think that this perfume was aimed at the male and female market. Ariana Grande Frankie is discontinued and pretty much impossible to find online now.