Anna Sui is a renowned American fashion designer known for her eclectic and whimsical style, and she has successfully extended her creative vision into the world of fragrance. The Anna Sui Sundae Collection like all her perfumes capture the essence of her unique fashion sensibilities and offer a delightful olfactory experience for those who appreciate distinctive and playful scents.
Anna Sui launched her first fragrance in 1999, marking her entry into the world of perfumery. Since then, she has introduced a variety of fragrances, each reflecting her signature style and personality. Anna Sui's perfumes are produced in collaboration with Inter Parfums, a leading global fragrance company, ensuring the highest quality in scent creation and presentation.
One of the standout features of Anna Sui's perfumes is the exquisite and ornate packaging. Her fragrances often come in intricately designed bottles that resemble vintage or whimsical objects. The Anna Sui Sundae Collection recreates the scent and feeling of getting an ice cream or sundae in the height of summer. This article explains what each of the Anna Sui Sundae perfumes smell like and the difference between them. In the UK the collection can be found at Escentual.
| Perfume | Fragrance Notes |
| --- | --- |
| Violet Vibes | Strawberry, Whipped Cream, Marshmallow, Apple Blossom |
| Mellow Yellow | Lemon, Peach, Jasmine |
| Pretty Pink | Orange, Pomelo, Basil, |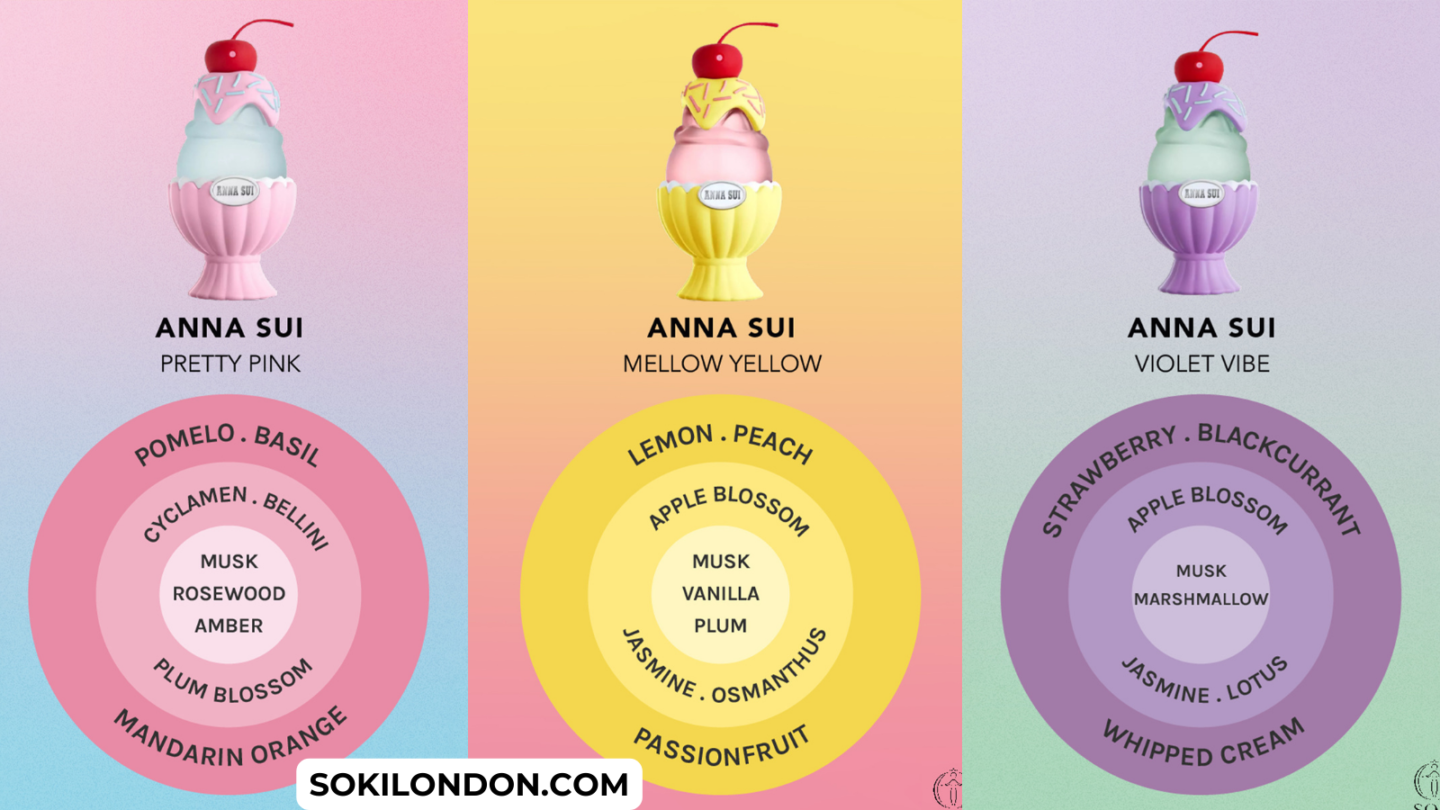 Anna Sui Violet Vibes
---
Anna Sui Violet Vibes Eau de Parfum is my favourite from the three Sundae Collection fragrances. After a sweet berry opening note the fragrance develops into a sweet jasmine fragrance which is reminiscent of Ariana Grande Cloud. It has the best lasting power out of the three perfumes and I recommend it for evenings as well as daytime.
Anna Sui Mellow Yellow
---
Anna Sui Mellow Yellow is a fresh citrus fragrance which has a zesty lemon opening note that is ideal for humid weather. Apple blossom and a peachy osmanthus note make up the majority of the fragrance's heart with a hint of a vanilla in the base. I recommend Anna Sui Mellow Yellow for hot summer days.
Anna Sui Pretty Pink
---
Anna Sui Pretty Pink is primarily an orange fragrance which is fresh with a hint of a floral undertone. I really like the Bellini and plum blossom notes which add to the fruity accords which are the main notes in this fragrance. The lasting power is a few hours so I recommend it for the day time.