The 1970s were a decade defined by unique fashion, music, and cultural revolutions. It was an era where bell-bottom pants swayed on dance floors, disco balls illuminated nightclubs, and a sense of freedom and self-expression permeated the air. Amidst this vibrant tapestry of trends and movements, another sensory experience left an indelible mark on the memory of the 70s – the world of fragrances.
The 70s were a period of olfactory experimentation and innovation, where perfumers crafted scents that reflected the spirit of the times. From the sultry, hedonistic allure of disco divas to the free-spirited bohemian lifestyle of flower children, each fragrance captured a distinct facet of the decade's multifaceted culture. In this exploration, we embark on a nostalgic journey through time, rediscovering the best 70s perfumes that continue to evoke the essence of an era that left an indomitable mark on the world of scent.
Join us as we delve into a fragrant time capsule to the 1970s, where we uncover the iconic scents that defined an era of rebellion, self-discovery, and a whole lot of groove. These fragrances not only became an integral part of 70s fashion and lifestyle but continue to captivate and inspire perfume enthusiasts and aficionados today. So, sit back, inhale the scents of yesteryear, and prepare to be transported to a time when perfume was more than just a fragrance; it was an expression of identity and an emblem of an unforgettable decade.
| Perfumes | Release | Fragrance Notes |
| --- | --- | --- |
| Cacharel Anais Anais | 1978 | Hyacinth, Honeysuckle, White Lily |
| Estee Lauder Ailage | 1972 | Citrus, Jasmine, Rose, Nutmeg |
| YSL Opium | 1977 | Incense, Orange, Vetiver, Oakmoss |
| Estee Lauder Cinnabar | 1978 | Cloves, Tangerine, Cinnamon, Peach |
| Chanel Christalle | 1974 | Lemon, Bergamot, Hyacinth, Jasmine |
| Dior Diorella | 1972 | Melon, Honeysuckle, green notes |
| Jovan Musk | 1972 | Musk, Jasmine, Neroli |
| Revlon Charlie | 1973 | Lily-of-the-Valley, Musk, Bergamot |
| Revlon Charlie Blue | 1973 | Oakmoss, Germanium, Rose, Jasmine, Musk |
Table of Contents
Cacharel Anais Anais
---
Cacharel's Anais Anais is a standout, offering a delicate bouquet of white florals that is very much worn and sold today. This one has hyacinth in it, and notes of deep heavy lilies for people who love Lilly accords in their perfumes. Its scent evokes a sense of springtime romance, with fresh florals enveloped in a gentle embrace of warm, musky undertones. There are notes of honeysuckle, jasmine and other white florals with an undertone of musk, oakmoss and incense. You can find it at great prices these days, people have stayed loyal to the brand even now! 
Estee Lauder Ailage
---
Estée Lauder's Aliage is a green fragrance. Launched in 1972, it was ahead of its time,one of the first fresh perfumes to be released. Aliage is a concoction of brisk green notes, supported by citruses, and then grounded by a mossy-woody base. It has a strong note of vetiver making it very unisex. It gives off an effervescent quality, reminiscent of a brisk walk in a forest. Estée Lauder's Aliage is perfect for someone looking for a heavy intense green perfume combined with traditional notes.
YSL Opium
---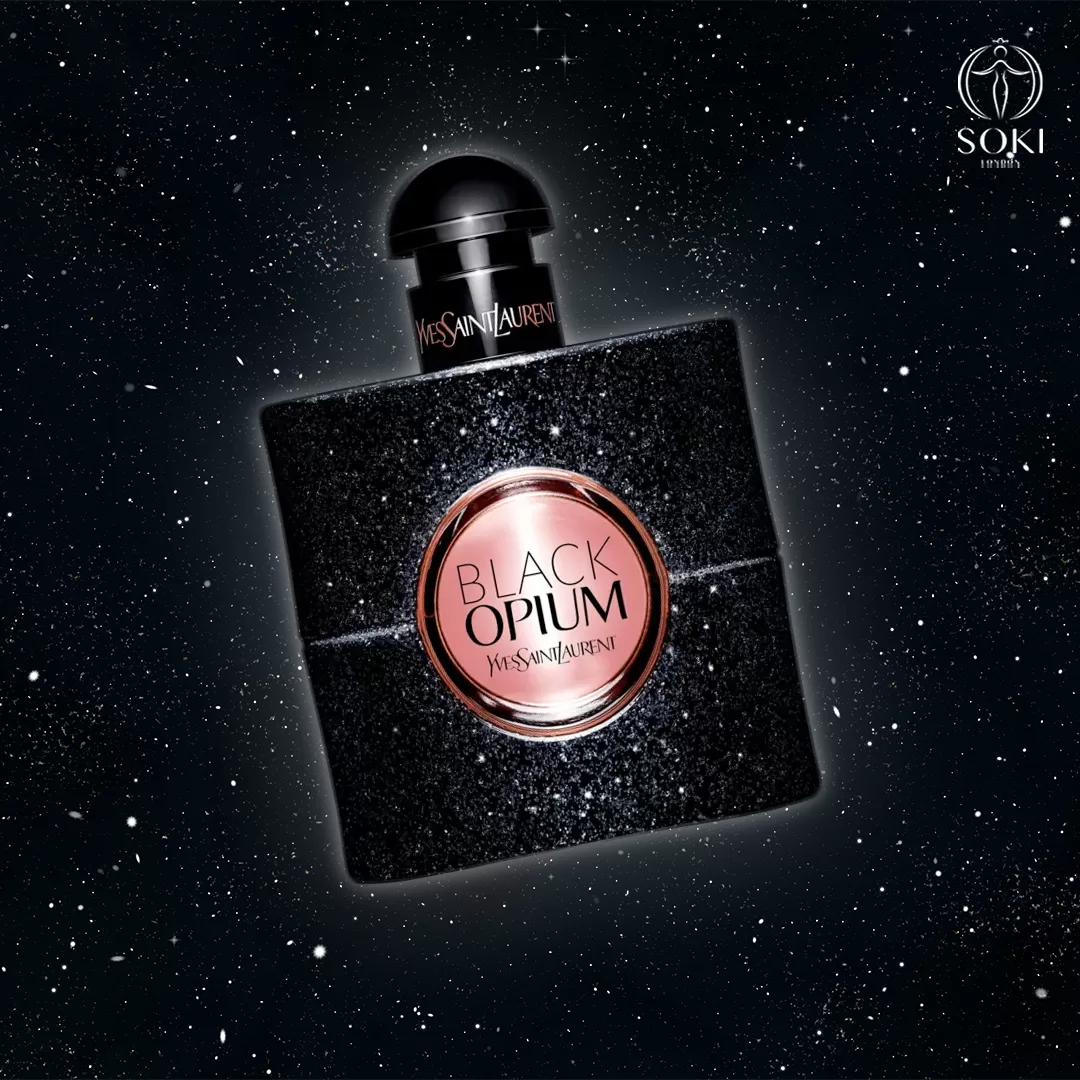 Yves Saint Laurent's "Opium" came out in 1977, and it was popular all through the 80s as well, its rich blend of spices, deep florals, and warm resins. The dominant notes of myrrh, cloves, and cinnamon meld harmoniously with the softer undercurrents of peach, mandarin, and sandalwood. Its opulent, ambery base ensures longevity, making its sillage unforgettable. Opium is not for the faint of heart; it demands attention and exudes sophistication.
Estee Lauder Cinnabar
---
Estée Lauder's Cinnabar is a fiery dance of opulence and mystique, whisking the wearer away on an oriental journey. Introduced in 1978, Cinnabar is a masterful blend of spicy warmth, resonating with an underlying sensuality. The fragrance unfolds with inviting notes of spicy clove and tangerine, which pave the way for a heart rich in ylang-ylang, jasmine, and orange flower. This floral melody is beautifully contrasted by the base's smoky essence of amber, incense, and patchouli. The rich, layered depth of Cinnabar evokes the allure of ancient spice routes and bustling bazaars. It's a scent that feels lavish, exotic, and unmistakably sophisticated. Perfect for evening wear and cooler months, Cinnabar appeals to those who appreciate a bold, statement fragrance
Chanel Cristalle
---
Chanel's Cristalle was introduced in 1974, this fragrance is an ode to the simplicity and elegance. A harmonious blend of citrus top notes, primarily lemon and bergamot, it gracefully evolves into a heart of hyacinth and jasmine, it has a slightly fruity feel to it. Following the trend in the 70s it has vetiver and oakmoss in its base add a subtly earthy dimension, creating a fragrance that can be worn by women of any age. It is unfortunately very hard to find these days although it is one of my favourite Chanel perfumes, maybe Chanel should consider bringing it back.  
Dior Diorella
---
Christian Dior Diorella is a testament to classic elegance and youthful spontaneity. Unveiled in 1972,  this chypre fruity fragrance has notes of lemon and bergamot and the subtle sensuality of honeysuckle, melon, and basil. At the heart it has floral notes, cushioned by a soft, mossy base. Its harmonious balance is neither overly sweet nor too sharp, making it versatile and timeless. Diorella exudes effortless French chic, embodying casual sophistication. Its reformulation is towards more fresher notes but its still has a lot of those mossy undertones, undoubtedly one of the classics in Dior's range of perfumes. 
Jovan Musk
---
Jovan Musk, by Jovan, is a scent that transports one back to the 1970s, being one of the first popular musk fragrances. Essentially it was a very simple musk fragrance with notes of white florals and a touch of spice. There was also a men's version of it. The fragrance has an undeniably magnetic pull, bridging the gap between the raw and the refined. Jovan Musk stands as an iconic testament to timeless sensuality and elegance.
Revlon Charlie
---
Revlon's Charlie is a fragrance that defined the 1970s with its groundbreaking androgynous appeal. A trailblazer in its time, Charlie effortlessly combines sharp, green floral notes with a hint of musk and sandalwood, creating a scent that's both fresh and sensuous. The aldehydic opening is quickly met with a bouquet of jasmine, rose, and geranium, anchored by a warm, mossy base. It was one of the first perfumes that was affordable yet great. It wasn't that good for lasting but nevertheless it remains iconic and symbolic of the era. 
Revlon Charlie Blue
---
Charlie Blue by Revlon is a flanker to the original Charlie, this scent has similar notes to original Charlie but with a richer, more floral touch. Opening with a burst of geranium, jasmine, and rose, it transitions into a heart of moss and woods, underpinned by a comforting base of vanilla and musk. For me this is one of those perfumes that set the tone for the coming decades, and is widely sold and used even now.