Coffee might not be one of the first scents which spring to mind when you think of perfume notes. However, I'm seeing coffee used more and more in fragrances recently. Coffee creates a slightly sweet and very warm undertone to a fragrance which works well in both male, female and unisex perfumes. This article outlines the best coffee fragrances, where the coffee note is prominent and noticeable.
Table of Contents
Maison Margiela Replica Coffee Break
---
In my view, Maison Margiela Replica Coffee Break is the ultimate unisex coffee fragrance. The Replica fragrance range recreates real-life scents and feelings and their Coffee Break fragrance definitely succeeds in bringing to life comforting coffee shop vibes. Alongside coffee and milk fragrance notes, a calming lavender creates that cozy feeling of being cuddled up with a book in a coffee shop.
Atelier Cologne Café Tuberosa
---
Atelier Cologne Café Tuberosa is an interesting combination of fragrance notes which for me evoke the scents of South American coffee plantations. Alongside a slightly bitter coffee note, there is also a natural cacao and fresh cardamon which add to the feeling of herbs and spices freshly picked in a tropical climate. As the name suggests, tuberose completes Atelier Cologne Café Tuberosa, adding depth and longevity.
Atelier Cologne Café Tuberosa is a serious and relatively strong unisex fragrances which doesn't have the sweet or milky tones which many other coffee fragrances do.
Floral Street Ylang-Ylang Espresso
---
Floral Street is a British brand based in London; all their fragrances and vegan and cruelty-free and come in sustainable packaging. Ylang-Ylang Espresso is a spicy coffee fragrance and one of the strongest in the Floral Street range. Patchouli and a hint of woody oud create a deep base to the perfume which help create an 'espresso' feeling, as opposed to a milky coffee vibe.
Britney Spears Prerogative & Private Show
---
Prerogative from Britney Spears is a really affordable coffee perfume. It combines sweet apricot with warm coffee to create a sweet coffee scent which is very cosy and wearable.
I also think it's a bit of a dupe for YSL Black Opium!
Britney Spears Private Show reminds me of the the smell of the sweetest Starbucks coffee you can buy! It's creamy, milky and even has a whipped cream smell; it's basically the perfume version of a toffee nut latte!
By Kilian Intoxicated
---
By Kilian Intoxicated evokes the same spicy cardamon and coffee combination that we see in Atelier Cologne Café Tuberosa. I feel that Intoxicated leans more towards the masculine side of the fragrance spectrum because there aren't any floral or soft notes in the scent; it's all about cardamon coffee!
Cardamon coffee is a popular drink in Turkey; when I visited the country I had it many times, so I find By Kilian Intoxicated very nostalgic.
YSL Black Opium Extreme
---
Lush Cardamom Coffee
---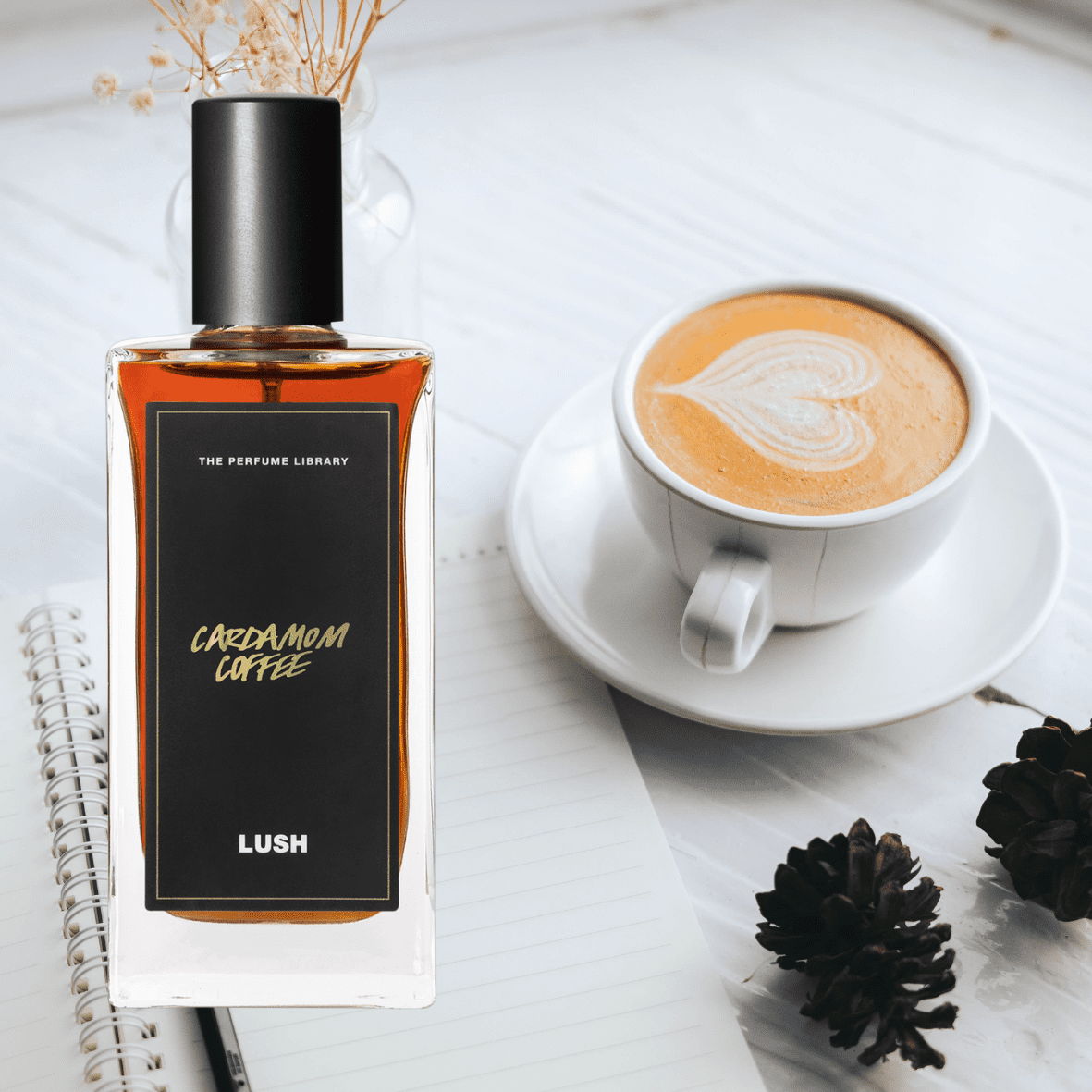 British vegan and cruelty-free brand Lush have a range of strong smelling products; I find all their fragrances quite intense. Lush Cardamom Coffee of course combines spicy cardamon and coffee but it also has an oud note which adds even more depth and intensity. I believe Cardamon Coffee is one of the most popular fragrances from Lush and has a loyal fan base!
Hugo Boss The Scent For Her Absolute
---
I personally think there are some real gems in the HUGO BOSS The Scent range; Hugo Boss The Scent For Her Absolute being one of them! The range has a number of different fragrances in it; all of which have a common peach note. However, in this Absolute version a sweet coffee note provides the primary scent for the fragrance. Vanilla also combines with the hint of peach to soften the coffee note, creating an almost chocolatey feeling to the fragrance.
Kayali Oudgasm Cafe Oud
---
For a strong coffee fragrance I recommend one of the newer Kayali fragrances in her Oudgasm collection. Cafe Oud does exactly what it says on the tin; combining coffee bean notes with an oud undertone helps deepen the cappuccino vibes in the fragrance accord creating one of the heavier coffee scents in this list.