Chloé, a renowned luxury fashion house, has captivated the hearts of women around the world with its timeless designs and exquisite craftsmanship. As an extension of its sartorial mastery, Chloé has ventured into the realm of fragrances, creating a diverse range of perfumes that embody the essence of effortless femininity and refined elegance.
In this comprehensive guide, I delve into the enchanting world of Chloé's signature range of perfumes, exploring the various scents that make up this iconic collection. I have a separate article on the Chloe Nomade range.
Throughout this journey, I will uncover the signature notes and accords that define each Chloé perfume, unveiling the character and personality that distinguishes them from one another. From delicate floral bouquets to woody and aromatic compositions, Chloé offers a diverse range of olfactory experiences, catering to different moods and preferences.
Whether you are a devoted Chloé enthusiast or a fragrance aficionado seeking to discover a new olfactory journey, this guide aims to be your ultimate companion. I will navigate the Chloé perfume range, providing insights and recommendations to help you find the perfect scent that resonates with your individual style and personality.
In the UK you can find the Chloe signature perfume range at LOOKFANTASTIC and get 20% off with code LFTFSOKI.
Chloé Eau de Parfum
---
The original Chloé Eau de Parfum was released in 2008. This is a classy 'English Rose' fragrance which is elegant, traditional and pretty good for lasting.
The Rose note is accompanied by Freesia and Lily-of-the-Valley; these are two classic perfume notes which create an 'English Country Garden' feel.
The Peony and Litchi are both quite modern fragrance notes (we see Rose and Litchi mixed together in Carolina Herrera Good Girl and Parfums de Marly Delina).
Chloé Eau de Parfum is probably one of the best for lasting and projection out of all the Chloe fragrances and therefore I recommend it for any rose perfume fans.
Roses de Chloé
---
Roses de Chloé Eau de Toilette was released in 2013. As the name suggests, Rose is again the main fragrance note. But in Roses de Chloé unlike in Chloé Eau de Parfum, the rose is simple and not really accompanied by other perfume notes.
Roses de Chloé is a simple and fresh fragrance ideal for spring or summer days. Being an Eau de Toilette its lighter than the original and will require topping up after a few hours.
The bottle is very cute with pink liquid and a rose pink bow; I get the feeling that Roses de Chloé is aimed at a younger wearer than the original perfume.
Chloé Fleur de Parfum
---
Chloé Fleur de Parfum released in 2016 is a citrus take on the original Chloé Eau de Parfum. This freshness is achieved through Verbena, Bergamot and Grapefruit perfume notes.
At first the citrus notes are very noticeable, but after a while the Rose comes through, complimented by a Cherry Blossom and a hint of Peach.
Essentially Chloé Fleur de Parfum is a fresher summer version of the original Chloé Eau de Parfum.
Chloé Absolu de Parfum
---
Chloé Absolu de Parfum is very similar to the original Chloé Eau de Parfum.
A Vanilla note has been added to the base but this isn't really noticeable. What is noticeable is a creamy Patchouli fragrance note which blends with the Rose to create depth and warmth.
Patchouli is known for helping perfumes lasts, so just like the original Chloé Absolu de Parfum is pretty good for lasting.
Chloé L'Eau Eau de Toilette
---
Chloé L'Eau Eau de Toilette, released in 2019, is a light summer scent reminiscent of Roses de Chloé.
An Oakmoss note has been added which creates a green undertone. Even more noticeable is the Grapefruit note which dominates the initial minutes after its first sprayed.
Like the other Eau de Toilette's in the range, Chloé L'Eau Eau de Toilette is very light. This is the kind of perfume which you can maybe smell on yourself but others might have difficulty.
Chloé Rose Tangerine
---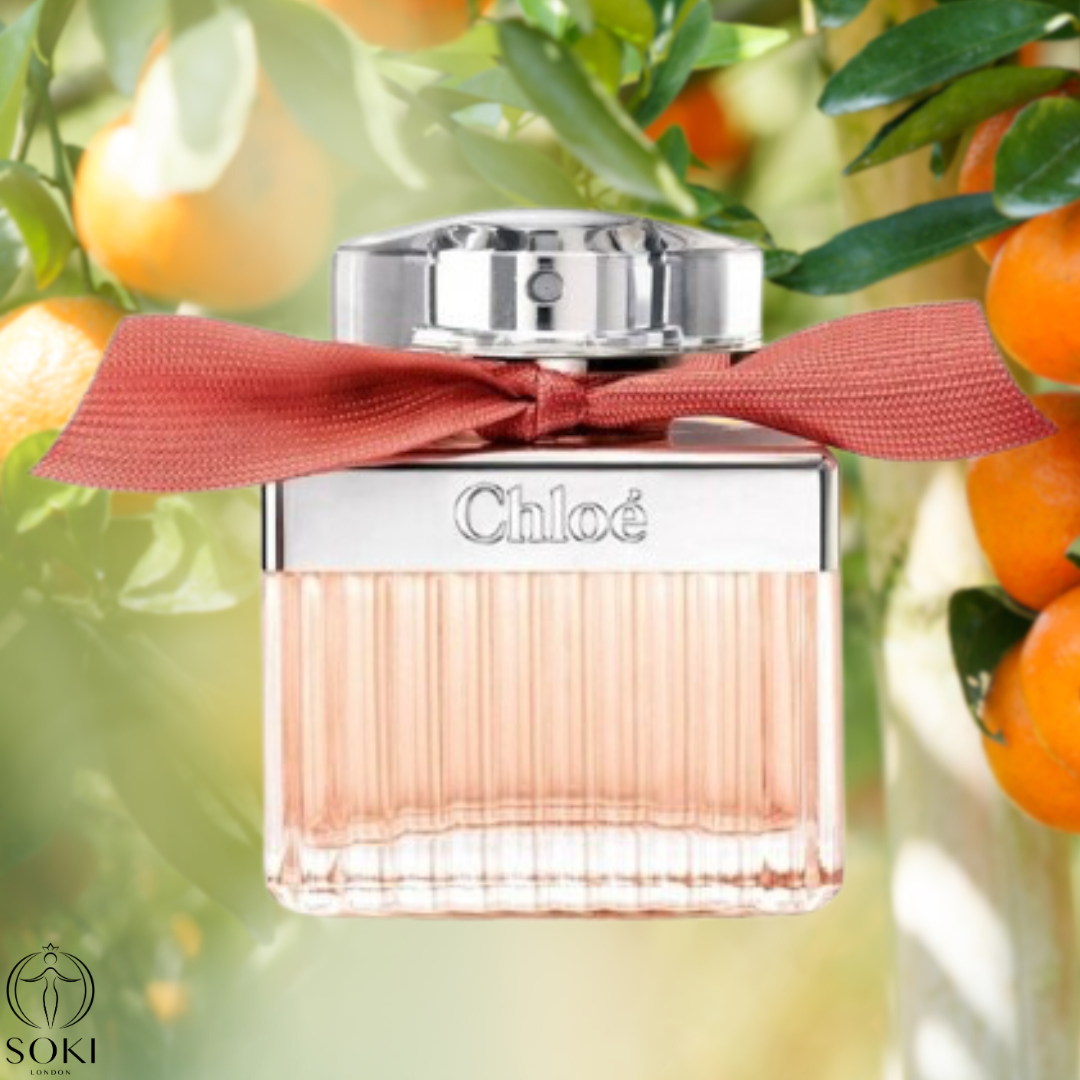 Chloé Rose Tangerine does indeed have Tangerine and Rose perfume notes within the fragrance composition. However, the cedar note in the perfume's base is equally, if not more dominant.
Initially the fresh Tangerine is light and refreshing, but after a few minutes have passed Chloé Rose Tangerine becomes a light green scent.
Just like Chloé L'Eau, Chloé Rose Tangerine is an Eau de Toilette and so only lasts a few hours at best.
Chloé Eau de Parfum Naturelle
---
Chloé Parfum Naturelle is the latest release in the range. This is advertised as a Vegan, 100% natural fragrance which uses recycled material in the packaging and bottle.
Unfortunately, using natural alcohol and ingredients hasn't created a perfume which lasts. I'd compare Chloé Parfum Naturelle to a rose water. It performs like a light Eau de Toilette and can only really be smelled when you get close up to the skin where it was sprayed.
Considering how expensive Chloé Parfum Naturelle is, I'd recommend sticking with the original Eau de Parfum!