Find the perfect Mother's Day gift with my top 10 guide of perfumes to get for your Mom (or Mum if you're in the UK!) this season! I've included high-end and budget-friendly options as well as the best Mother's Day Perfume Gift Sets!
| Perfume | Release | Fragrance Notes | Budget |
| --- | --- | --- | --- |
| Chanel Coco Mademoiselle | 2001 |  Orange, Rose, Patchouli | $$$ |
| Sarah Jessica Parker Lovely | 2005 | Lavender, Musk | $ |
| Elie Saab Le Parfum | 2011 | African Orange Flower, Jasmine | $$ |
| La Vie Est Belle | 2012 | Praline, Jasmine, Orange Blossom | $$ |
| Gucci Bloom | 2017 | Jasmine | $$ |
| Dolce Peony | 2019 |  Peony, Freesia, Pear | $$ |
| Armani My Way | 2020 | Jasmine, Vanilla and Musk | $$ |
| Lancome Idole | 2021 | Pear, Bergamot and Pink Pepper | $$ |
| Penhaligon's The Favourite | 2020 | Iris Violet | $$$$ |
| Jimmy Choo Blossom | 2015 | Sweet Pea, Fruits | $ |
Table of Contents
Why is Mother's Day on a different day in different countries?
---
Mother's Day is celebrated on different days in different countries for various historical, cultural, and religious reasons. The modern concept of Mother's Day originated in the United States in the early 20th century and was recognized as a national holiday in 1914. However, it was also celebrated in other countries, including the United Kingdom and parts of Europe, around the same time.
In the United Kingdom, Mother's Day (also known as Mothering Sunday) has its roots in the Christian tradition of visiting one's mother church on the fourth Sunday of Lent. Over time, this tradition evolved into a day for children to honor and give gifts to their mothers.
In other countries, such as Mexico and many Latin American countries, Mother's Day is celebrated on May 10th, which was the day of the Virgin Mary's feast day in the Catholic Church. In other countries, the date may coincide with other holidays or significant events.
Overall, the specific date of Mother's Day varies from country to country, but the underlying sentiment of celebrating and honoring mothers remains the same.
1. Chanel Coco Mademoiselle Eau de Parfum
---
There can be nothing more classic than Chanel. Chanel Coco Mademoiselle Eau de Parfum is 'wearable' in all seasons, day or night. This perfume lives in the classic chypre floral family with key notes of orange, rose, and patchouli, which mix to create a vibrant and fresh scent. It has a moderate sillage and longevity. This is an elegant and elevated fragrance which has a strong lingering scent that is addictive! 
2. Sarah Jessica Parker Lovely
---
Sarah Jessica Parker Lovely perfume is a delicate and feminine scent that exudes warmth and sophistication. It can usually be found for under $30, making it an absolute bargain in my view! It has a pleasant blend of floral, woody, and musky notes that create a captivating and inviting fragrance. The top notes of mandarin, bergamot, and rosewood provide a fresh and fruity opening, while the heart notes of lavender, apple martini, and patchouli add depth and complexity. The base notes of musk, cedar, and amber provide a warm and sensual finish. The longevity and sillage of the perfume are moderate, making it suitable for everyday wear, including at the office.
3. Elie Saab Le Parfum
---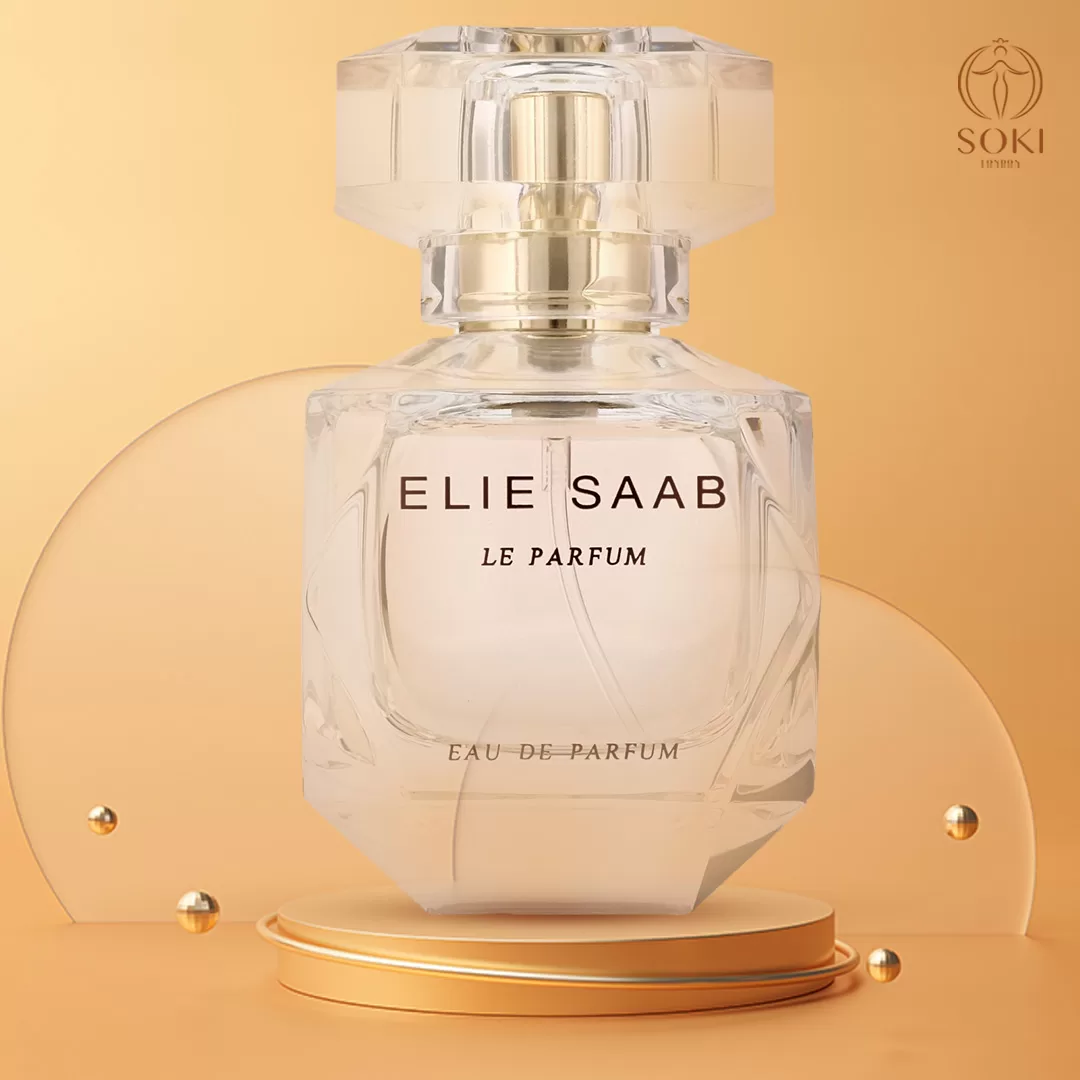 This perfume is housed in a very elegant glass bottle. It has an amazing blend of jasmine and sparkling orange blossom that sticks around and makes me fall in love with its fragrance every time I wear it. This is my favourite and exudes sophistication! It's a balanced, well rounded, feminine and elegant fragrance which can be worn all throughout the year. 
Because Elie Saab Le Parfum is over ten years old now, it can usually be found discounted. I recommend Sephora if you're in the UK and Europe. In the US, it's harder to find, but they do have it at Walmart.
Ellie Saab have a beautiful perfume range check out my article on the different versions of Elie Saab Le Parfum, and their Girl Of Now Scent.
4. Lancôme La Vie Est Belle
---
Lancôme La Vie Est Belle is a round, sweet and gentle floral fruity gourmand fragrance. With notes of Praline and Patchouli in the base and Iris, Jasmine and Orange Blossom at the heart, I think it creates a beautiful fusion of simplicity and beauty. This has a very distinct scent which one can recognise anywhere. It has good sillage and longevity, which has helped make it a world wide best-seller.
La Vie Est Belle can be found at Ulta in the US and I recommend the UK Lancôme website for UK orders. Check out my article on every version of La Vie Est Belle.
5. Gucci Bloom
---
There is nothing more classic than a bouquet of flowers on Mother's Day! Blended with Rangoon creeper, jasmine bud, and tuberose, Gucci Bloom is a classic floral fragrance. Once it dries down, the florals become powdery. This is apt for summer or spring as it settles on the skin beautifully. Overall, it is a strong, linear jasmine with longevity and classic femininity. There are quite a few different versions of Gucci Bloom; check out my article on every Gucci fragrance for women.
6. Dolce Peony
---
Dolce Peony opens with a floral fruity scent which is fun and light-hearted. It's a fantastic out of shower scent that smells of a beautiful fresh peony, freesia and pear. It has a light, fresh and uplifting feel which is made for adding extra positive energy to warm summer days. I think any of the Dolce fragrances, with their cute floral cap would make a cute Mother's Day gift.
7. Giorgio Armani My Way
---
My Way by Giorgio Armani is a classic orange blossom floral fragrance for women which has been a huge success since its release a few years ago. I find the orange blossom warm, and sparkling in a similar way to Elie Saab Le Parfum. I love the sharp citrus opening of My Way Floral, and the heart notes of tuberose, jasmine with a hint of vanilla, which is not overpowering, work well together.
It is an inoffensive scent that works for everyday wear and is a safe blind buy. This perfume definitely is one of MY WAYS of making my mother happy!
8. Penhaligon's The Favourite
---
Penhaligon's The Favourite is a classic, feminine, regal and  vintage fragrance with an irresistible charm. I like how the top notes of Violet, Freesia and Mandarin Orange blend well with Mimosa, Iris and Jasmine at the heart which exudes a powdery sweet scent. It is an airy perfume with a moderate longevity and sillage. This has a very niche and high end touch to it, made for Mother's Day!
9. Lancôme Idole
---
What mom doesn't appreciate a gift from Lancôme? Idole is one of those perfumes that smells totally different when sprayed on skin than when smelt on a strip. It opens with an elegant blend of pear, which is swiftly followed by a modern rose, jasmine and bergamot. I personally find the dry down so lovely and soft that makes it far from basic. It's an everyday genuine scent, definitely a stunner!
10. Jimmy Choo Blossom
---
Jimmy Choo Blossom is a fresh and fruity fragrance that embodies a sense of femininity and vitality. The scent opens with sweet and juicy top notes of red berries and citrus, which give it a burst of freshness and playfulness. The heart notes of sweet pea and rose continue the fruity floral theme, while the base notes of sandalwood and white musk create a creamy and warm finish.
The perfume has a moderate longevity and sillage, making it suitable for daytime wear during the spring and summer months. The bottle design is elegant and chic, with a simple yet stylish design that features a gradient of pink to white.
Overall, Jimmy Choo Blossom is a delightful fragrance that is perfect for moms who enjoy a youthful and fresh scent. It can also often be found heavily discounted!